Expertise & bespoke insights to help your business thrive

Whether you're looking for a fully managed service, campaign development or a bespoke Strategy created for your business that you can action in-house, I offer a range of options which can be tailored to suit your needs. Choose between the Consultancy or Full Management packages listed below or contact me directly to discuss your options.
⭐️ Social Media Strategy
There's no escaping it. A comprehensive Strategy, aligned with your business objectives is indispensable in helping you achieve social media success. From identifying your social goals, to really pinpointing your preferred audience and how best you're going to communicate with them – social media is a powerful support to your existing marketing. And a strategy is your very own route map that ensures you're on track and working to your own values.
A Strategy consists of;
An existing Channels Audit

Competitor Analysis 

Setting your Social Goals & Objectives

Target audience research & Creating bespoke User Personas to better target your ideal customers

Identifying your primary platform(s)

Defining your Tone & incorporating in your Branding

Audience targeting – Identifying where your ideal customers already are on social media

Influencer mapping

Developing a Content Strategy that helps you clarify what content to create & curate

Creating a bespoke Content Calendar for your organisation

Post Creation, Scheduling and Frequency

Managing Daily Engagement

Analysis & Reporting
I can provide you with a bespoke Strategy for you to action and manage in-house or as part of an overall full management package.  Additional in-house training and consultancy can also be provided.
From £1,000
⭐️ Full Account Management
Not all businesses have the time to devote to maximising their social media results. And beyond the initial creation of your Strategy and ongoing Analysis of your results, dedicated time for engagement, social listening and research is vital. Outsourcing your social to me is a simple way of ensuring your message and products reach your intended audience whilst you concentrate on the day-to-day of running your business.
From £500 per channel – 3 Month minimum, Optimum posting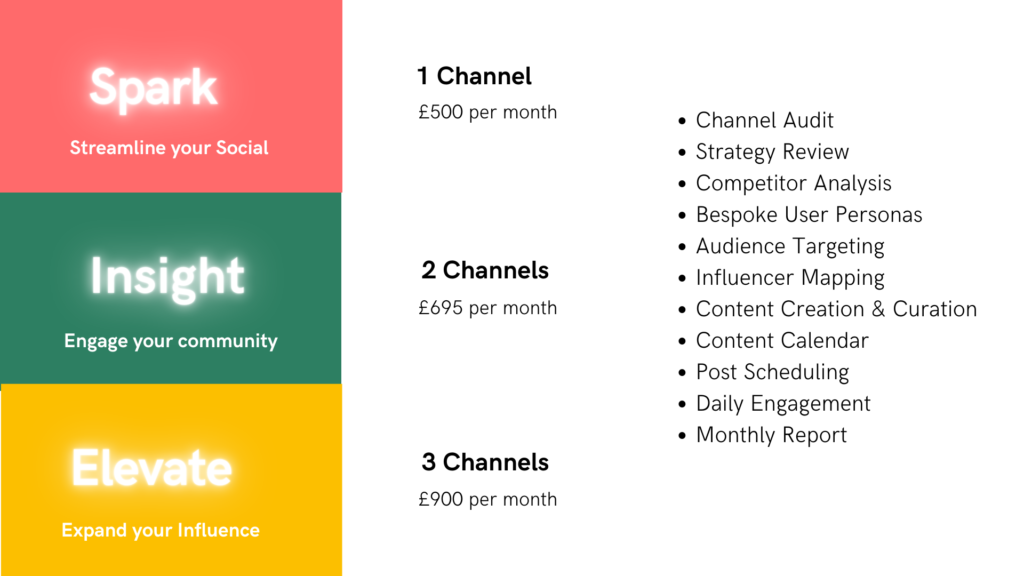 ⭐️ Channel Audit:
Sometimes you just can't see the wood for the trees, or you want another opinion re how your business compares with your competitors. I bring an objective eye to your existing efforts and help you identify ways to improve and refine your ongoing strategy. From ensuring your social profiles are optimised to reviewing your performance against your competitors, we'll  document pointers to help kickstart your feeds and ensure they really speak for your business.    £250
⭐️ Power Hour
An hour of dedicated expertise focussing on a specific problem or issue you would like to resolve or refine. A questionnaire sent in advance will enable me to create a tailored session just for you. Calls will take place over Zoom and your session will be recorded for your ongoing reference.  £129
Know you need something but not exactly sure what that something is right now?
Book a free 30 minute Discovery call and let's talk.